It literally happens overnight! One day you wake up and your little one has graduated from my favorite Lovevery playmat because they are rolling or crawling away from it every time you lay them down. What now? Well it's time to move your baby to a fun activity center. But which one? There are ones that rock, roll, blink, sing, and light up! Trust me, with 4 kids I've tried so many and this one from Skip Hop is my absolute favorite!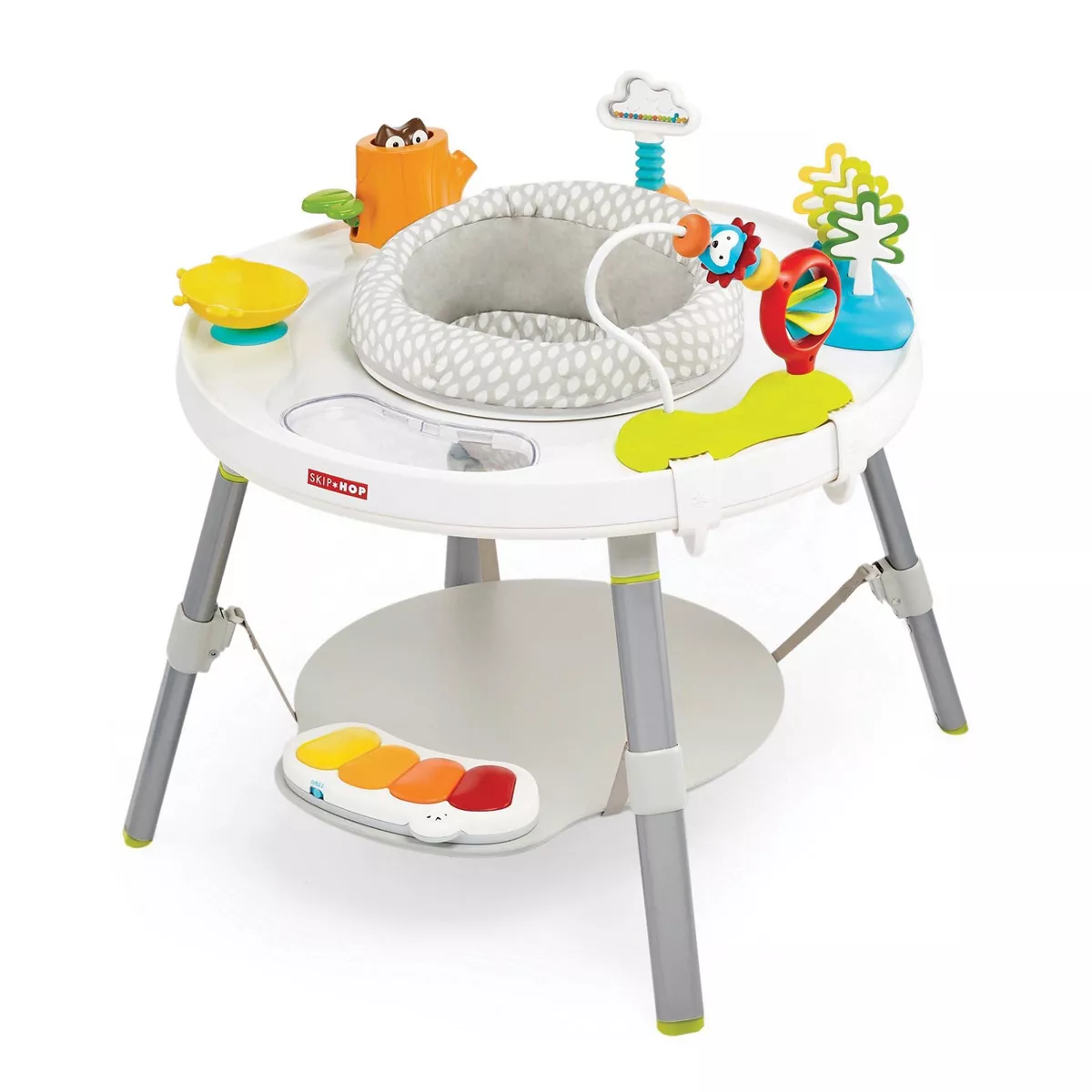 Here are the main reasons I love this activity table:
Customizable
I ordered this activity center during the height of the pandemic for my 3rd daughter. My older two daughters had been able to play with similar toys at the fabulous Montessori onsite daycare they had attended at similar ages.
I loved that when this activity center arrived and my daughter was still so little that I could choose to just offer one attachment at a time as to not overwhelm her.
I started first with the little Owl attachment. I would place her in there with the floor setting on the highest setting and then play peek a boo with the little Owl attachment.
Slowly over the next month I would remove and add attachments trying to work with her to discover and learn each attachment on it's own before adding them all.
Grows with your Child
I mentioned the floor setting, which has 3 stages to grow with your child who is sitting in the middle.
As your child grows you can remove the inner circle and make it more of an activity table and eventually a mini craft table with the option to purchase a little chair.
I love that one investment can bring so much future fun!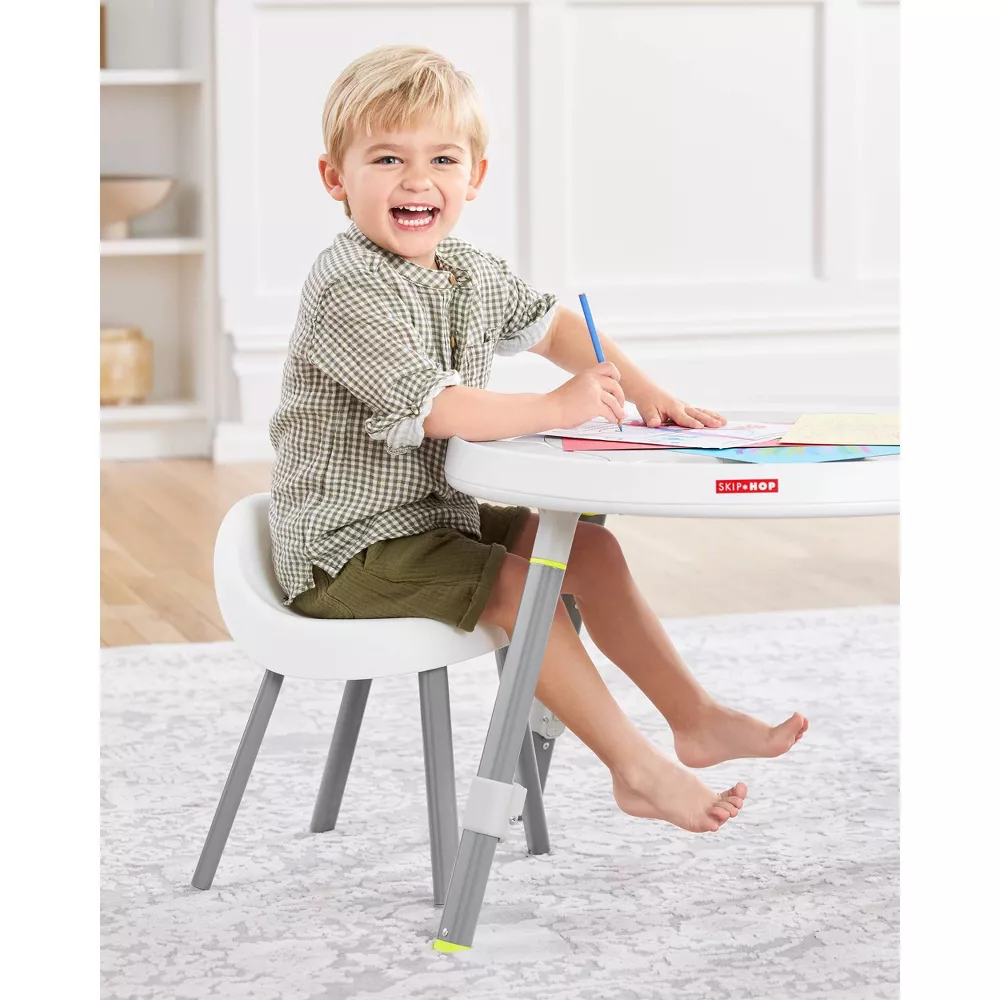 High Quality and Easy to Clean
This is a well made activity center that is so easy to clean!
Blow outs will happen in these and trust me you can easily pop the cloth seat out and throw it in the wash.
The activity attachments can all be popped off to make wiping the top down so easy especially because giving snacks or puffs on this activity table is a must do!
Aesthetically Pleasing
This is one of the better looking activity tables I've seen on the market.
In fact, Skip Hop has one for Target.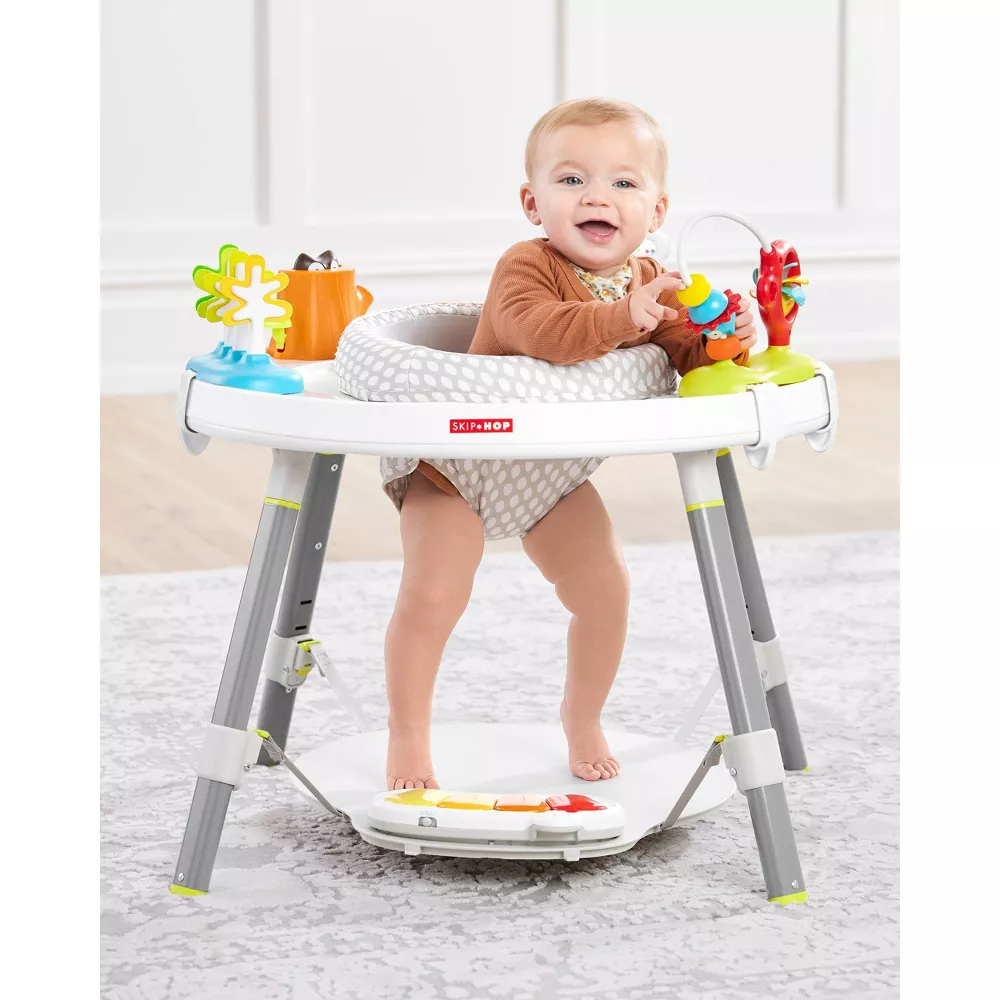 And the one below from Pottery Barn that is even a bit cuter!
I love that White is the main color with just some accents so not completely Beige mom, but somewhere in between 🙂
Hopefully, you find this activity center as AMAZING as I have. It is also super portable, which is great because our family likes to stay on the go!
A reminder that I always like to include is that if you find a baby item you love but the price tag isn't working for you either request it through your registry or even shop for it 2nd hand. Trust me with as high quality as this little activity center is it will have so much life left if you purchase it 2nd hand.
While your little one is playing away keep them comfy in the cutest new jammie styles from Caden Lane: