Christmas 2015, 2017, 2020, and now 2022 will forever be my favorite Christmases because having a baby at Christmas makes an already magical season infinitely more special! But what do you get such a little one? Whether you will be buying the gifts or you are being asked by family members here is a list of go to gifts that are perfect for babies still baking all the way up to one year! Here are my top ten suggestions in no particular order:
Baby Bump to 1 Year
Baby Books!
I love gifting and receiving books for any age baby because Mom can read to her baby bump and then keep reading to baby once they arrive. This book below is one of my personal favorites and makes a great book to set up for tummy time too!
Cuddle + Kind Doll
My girls love these adorable dolls and I love that they give back in such a tangible way. 1 doll = 10 meals to fight childhood hunger. These dolls are adorable to incorporate in monthly photos with baby and my girls always use these for tea party guests. This is a gift that really grows with your baby.
Anywhere Chair
This has been the staple Christmas present in our home with each of my children! I have Winter babies so they are typically closer to one year by Christmas and I love that they use this chair to pull up on, climb, and eventually sit in to read books or watch morning cartoons. This chair comes in so many fun colors and I love personalizing them for my kids. As my girls have grown, they become reading chairs in the corner of their rooms.
Radio Flyer 4-in-1 Stroll 'n Trike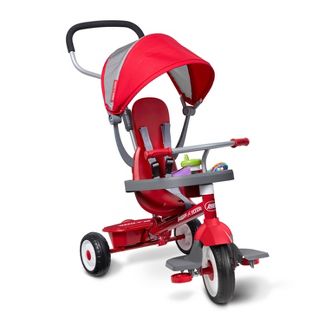 This gift just screams First Christmas! Assemble it late on Christmas Eve, pop a big bow on the front for squeals and thrills on Christmas morning! My first daughter received this for Christmas and it has stood the test of time being handed down throughout all her siblings. I again love that this grows with your child and will bring so many fun memories as you take bike rides throughout all the seasons.
Bath Toys!
This is a great stocking stuffer idea! Bath time is such a special activity from birth to 1 year and beyond. Here are some bath time favorites that will be enjoyed for many baths to come!
Baby Swing for Outside
While Christmas is usually cold depending on where you live, I always try to think ahead to Warmer times so this present is perfect for when things warm up and I've even had friends use these in their garage if it's too chilly out!
Lovevery!
This gift just keeps on giving! No matter if you are still waiting on baby or if your baby is already a year, Lovevery has a playkit perfectly tailored for your baby's unique age and stage! I think I get more excited for these kits than my kids, but only because it provides tips for parents on how to engage with your baby as well.
Specifically, my little man is loving the ball drop pictured above. He drops the balls in over and over and loves speed crawling after them as when they roll away. Better yet, these toys are teaching real developmental skills as they are all based on Montessori principles, such as object permanence. You could gift just one box or a year's subscription to your baby or ask for it from grandparents or other family members.
Cozy Personalized Blanket
Baby will be beyond cozy no matter their age in this one of a kind blanket. From cozying up to read a book, taking a nap, or going for a stroll this will be a well loved Christmas gift that Mom and baby will cherish!
Museum, Zoo or Play Space Membership
While this one is unique to where you live I would be remiss if I did not add it to the list of my favorite Christmas presents for babies! Whether it is a local zoo, science museum, play space, or baby gym classes experience gifts are truly wonderful so do not hesitate to ask for and/or gift these to babies of all ages. Trust me their mother's, dad's, and siblings will all love them too!
For example, we live in Raleigh and have a wonderful children's museum called Marbles. A yearly pass here saves my family so much money and it is enjoyed by my 9 month old all the way up to my 7 year old.
Barn Yard Little People Set
Babies love animals! This set is ideal for not only introducing your little one to animals, but also beginning some language skills by teaching animal sounds.
Personalized Name Puzzle
This will not only be a gift, but a keepsake for years to come! My girl's all have one of these and it is great for initial fine motor skills and eventually for learning the letters and spelling of their names. I am actually ordering on for our newest addition as we speak. Trust me this gift will be loved!
Here is a bonus that I am booking an appointment for and is a bit more of a gift for Mom, but involves baby and siblings! The Painted Peacock takes your little ones hand or footprints and turns them into the most beautiful statement pieces for your kitchen or home. I am beyond excited for this!
I hope my list shared some creative, classic, and fun Christmas ideas for babies to one year olds that will also grow with your family! Don't forget to start making your list now and checking it twice. Christmas will come faster than we think…it always does!