It's that time of year again! No, not Football season, but Fall Family Photo season. My husband thinks I book Fall Family pictures as some sort of torture specifically designed for him. But when he sees the end results he always understands why they are so important, especially as our family has grown through the years. Looking back even on the photo above seeing our girls when they were much younger brings so much joy because they tell the Story of Us!
Here are my top tips for helping Fall Photos with No FUSS!
Book Early, Like Now!
Fall is the busiest season of the year for family photos so photographer's schedules book up quickly. Once you've found a photographer whose style you love then reach out to them early to ensure you not only get a date that will work well for your family, but also a time that works for you and most importantly your children's schedules.
For example, one year my photographer recommended a sunrise session. Luckily with my kids were already early risers so this was even better than a sunset session, which would have been right around their bedtime. My littles were happiest in the morning too so their smiles were genuine and then we celebrated post-session with pancakes and being the first ones on the slide at the park!
Look for Savings
Family photos can be expensive and rightfully so because photographers truly poor their heart and precious time into making sure we receive beautiful images. But I've found that when photographers offer Fall Minis they are a wonderful way to get beautiful Fall photos at a discount. Fall mini sessions are usually smaller timed sessions for families that include a subset of pictures. The photo session may only be 15-20 minutes, but trust me this is about all the patience your toddler or even husband may have. Plus I am always blown away by the amazing photos a talented photographer can capture from even the most chaotic session.
We have done Fall Minis the last few years and we always end up with more than enough amazing photos to fill our Christmas card and to look back on just to reminisce too!
Pick Outfits Early
Once you book your photographer and work through the session that fits your budget and needs then start thinking about outfits!
I always start with my own (Mom's) outfit first! I know that if I can find something I feel good and look good in then I can coordinate my family's outfits from there.
This year, I am planning to wear this stunning Free People Dahlia Dress. I love the smocked top, flowy sleeves, and details. The picture below shows it with more casual accessories, but I know I can dress it up a bit with a cute felt hat and booties.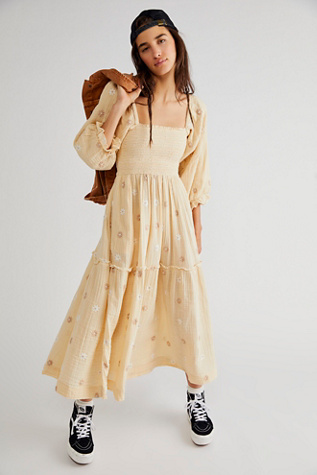 For my older girls, I'm loving these dresses from Gap, which bring in a floral vibe.
I am obsessed with these new Caden Lane Family photo outfits! My youngest daughter will be wearing this dress and my son will be wearing the coordinating button-up from Caden Lane!
Once, I've styled myself and the kids it's easy to pop my husband in a coordinating button-up or even a cream colored thermal with khakis.
Have Fun!
Seriously, once everyone is styled then ensure you talk with your family about the event in an exciting tone, and when the day comes relax and have fun!
Some of my favorite pictures are ones that truly capture the JOY, CRAZINESS, and GENUINE LOVE in our family!
Hope this article encourages your family to embrace Fall photos whether you hire a professional or even just set up your iPhone with a timer to get some DIY Fall Family photos.