Yes, you heard that correctly, I've had one tried and true stroller that has held up through all 4 of my children and is still going strong after almost 8 years of wear and tear! This blog title could honestly be changed to "My Love Letter to BOB", but my hubby might get the wrong idea! My BOB stroller has been everywhere from my baby's first stroll down the street to helping us navigate Disney with four littles! Some of my most favorite memories like stroller nap walks on the beach are tied to this baby product! Both the images and links below are similar to the model I got waaaaay back in 2014!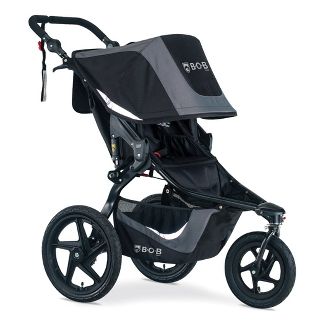 Here are the main reasons I recommend this stroller:
Smooth Rides
Whether you're using this stroller as it's intended to get in a good jog or whether you just need it to run errands this stroller is streamlined and offers a very smooth ride for baby. I used an attachment, below which allowed me to secure my Britax carseat onto the BOB for when my babies were too small to sit up in the stroller. I loved that with this attachment I could transfer a sleeping baby in the carseat straight to the stroller with just a click. Baby faces you while they are little and then once they are bigger usually around six months they can sit in the stroller by themselves and really look out on walks or runs. This stroller has rolled all my babies into a nap and for that I'm forever grateful!
Folds Quickly
I love that this stroller quickly folds over and collapses easily for storage in the back my SUV. I can honestly say I've folded this down quickly while wrangling a sleepy or wild toddler, which is saying something! In addition to the quick fold, the BOB comes with lots of accessories for Mom's like a drink and phone caddy as well as even a snack tray for littles that just make this stroller perfect for longer trips whether around town or at a Zoo or Disney.
Versatility
I love that the larger tires allow it go places that most stroller's can't go, like the beach! Seriously, strolling on the beach to get my children to nap is honestly my most favorite memory with my BOB stroller and I'm passionate about sharing this with other Moms! First this doesn't work on every beach given the type of sand that the beach may have, but on the wider NC and SC beaches once you can get past the fluffier sand down to the sand that is more packed on the shoreline the BOB will be a WIN-WIN! My BOB has also helped hold beach bags, coolers, and other things so it also acts as a beach cart!
Holds more than 1 Kid
While this may not be how the manufacture intended this space at the front of the stroller and while I advise caution, the triangle at the front of the stroller is ideal for having an older sibling hitch a ride when they are tired. While at Disney last March, my oldest daughter who was 6 at the time was able to hitch a ride when her feet got tired.
I know the one downside to this stroller could be the big investment, but you can easily register for it or watch your local buy, sell, trade pages for a used one at a discounted price. I was lucky to have my co-workers all chip in to purchase this big baby gear item for me and they are shocked it has held up so well after all this time! While my stroller has a bit of rust from the cherished beach walks, I hope this stroller keeps holding my littlest for at least 5 more years and I'm already dreading the day I have to let it go!
With all of the things I love my BOB for perhaps it is simply that it has helped me get out of the house and outside more with my babies, which is a theme I'm carrying into 2023 with a goal of 1,000 hours outside!