In today's world, you can keep anything. David's Bridal has a service where you send in your wedding dress for them to preserve it for you, you can save your wedding bouquet by framing it, you keep your baby's first haircut and hospital card…the list goes on!
Did anyone else have a mom that kept everything? Filled out your baby book, packed a good sized box to the brim with memories from your early days? Mine sure did, and I love it. It really helps me remember my earliest memories, compare items to pictures in albums and just reminisce. Even a favorite baby doll still smells of baby powder 20+ years later, how is that possible?! My baby box has my favorite toys, baby book, favorite books of mine and my mom's, drawings, hospital and baby shower items along with cards and well wishes. It's seriously amazing to see, and encourages me to do the same for my babies.
Here are some cool and different ways you can store such keepsakes, or anything of your choosing that is special to you!
This is a company I came across that actually specializes in all things keepsake storage. They have general organization along with ones for travel, school, weddings and babies. Seriously so cool! My favorite one for baby memory storage would be The Vault Baby Keepsake Box. It's a sleek stand up box that opens like a book and appears to be the size of a boot shoe box. It offers 2 caddies and 2 drawers that with the help of dividers can create 7 compartments for keepsakes. It also has 10 vertical files for documents and ultrasound pictures, whatever you want! About 50 baby labels come with it to show what items to save and label where to find them. At $65 this is such a cool idea if you don't want a huge box of items!
If you like this design but wish it had extra storage, the same company offers a Keepsake Overflow box for extra space. You can definitely combine this with the Vault or just use this if you don't care to save documents or papers. Price point is $28!
My search took me to Etsy (any good search usually does). The company Red Heart Creations offers personalized name and birth date engraving, on a stained wood chest in the size of your choosing! It's labeled as a "Baby Time Capsule" which is so funny to think about but that's literally what a baby box is! The smallest size is $50 but also appears to hold a good amount, with the dimensions of 7x6x5. This is such a unique way to store your keepsakes. This company sells many different items along with different storage chests, so if you need more than a baby box check them out!
Back to Etsy we go! The company Natural Baby Box has the cutest memory suitcase. It boasts of a fully lined fabric interior, a soft embossed detail exterior complete with straps and corner finishes, which give it a traditional feel. It appears spacious, and you are able to pack quite a lot in it, whether you're giving it as a gift or using it for memories, this is a great find! The company offers different colors, and is priced at $120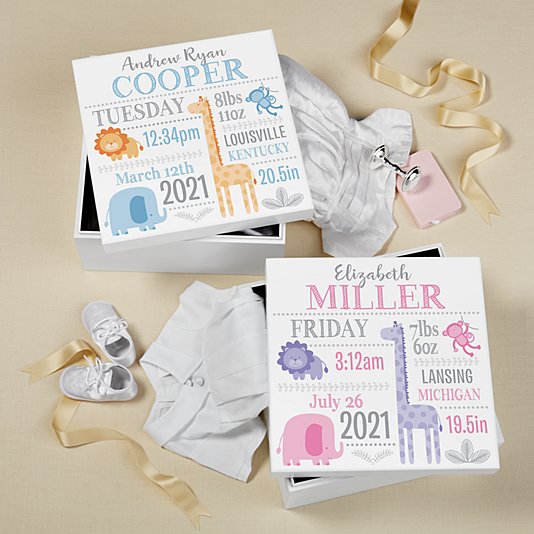 This one is a solid wood box, but I'm obsessed with the lid! You pick between blue or pink and get to personalizing! The lid has the baby's name, day/time and location of birth along with birth stats. Literally so cool! I also like that it's wood and not a regular plastic bin. There are no compartments or anything fancy, but with the dimensions of 6×12 it seems like you could fit a decent amount in it and even add your own organization if you wish. Priced at $60 but the site offers 40% off when you sign up for notifications, which is a pretty good deal if you ask me!
If you're someone who doesn't care to keep items, but still wants to have the memories of ultrasound images or your baby as a newborn all in one place, neatly labeled, organized and personalized…then this is the keepsake storage for YOU! This is seriously so cool and makes my wannabe organizer heart happy. You'll never guess where you can find it. Etsy where else?
The company is LJ Blues Chick and the storage is a clear large case that houses 16 smaller boxes. Each small box can fit up to 100 4×6 pictures! And of course they're labeled for each milestone. Priced at $62, you are also able to add your baby's name on the top along with a design of your choosing from the options they offer. It has two fonts to choose from along with a choice between black or white letters. In love with this idea!
Do you have any unique ways you've stored keepsakes?