Teething can be frustrating for both you and your baby. All you want to do is ease your baby's discomfort during the process of them getting their first teeth, and there are countless teething products to have to pick from. It can be overwhelming trying to decide on which ones you think may work the best. Here are six teethers that all have thousands of great reviews from fellow mamas: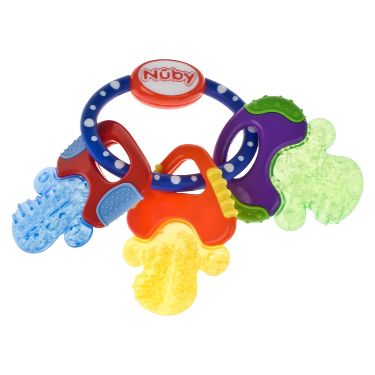 These key teethers, not only will soothe your baby's achy gums, but also act as a toy as well. The keys are filled with gel that can be refrigerated to provide a cooling sensation. The ring on the keys makes it easy for your baby to hold onto. Each key has a textured surface to massage your baby's gums. The great thing about this teether is that once your baby is done with the teething stage these can also be used as a toy!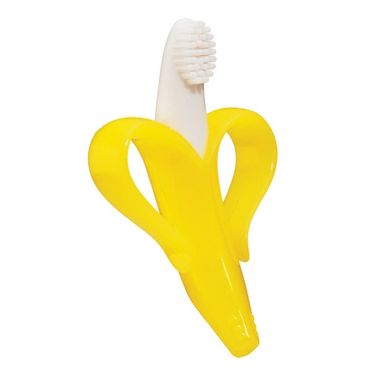 This banana teether is so adorable and effective! It has banana peel handles to make it easy for your baby to grasp and the silicone bristles on the banana will massage your baby's gums while they chew on it. Additionally, it is also designed to be a training toothbrush! This teether can help soothe your baby while promoting good oral hygiene.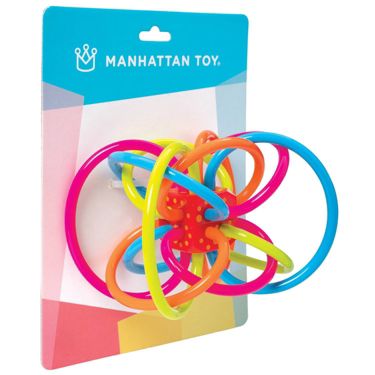 This teether is an award winner for a reason! It's a teether, rattle, and sensory toy all in one. It can even be refrigerated! The colorful loop design makes it easy for little hands to hold onto and keeps their attention as well. This multipurpose teether is a purchase you won't regret.
This teether was designed to mimic baby fingers since babies love chewing on their own hands. It has multiple grabbing points and is long enough to reach your babies molars. It's dishwasher safe, which makes cleaning it easy.
This two in one teether is a favorite! You can use this teether to help reduce teething discomfort , and also as a spoon for feedings. It soft, easy to grip, and dishwasher safe! This teether will give your baby something to chew on and make feeding time easier.
Comment below which teether your children loved the best!