I have found myself being drawn to the concept of a capsule wardrobe lately for both myself and my children. I love that, with our larger family, having pieces that we love and pair well together makes getting ready easier for everyone! Truthfully, with how quickly toddlers change each season this concept just works, so without further adieu here are ten staples for a pared down set of interchangeable outfits for your little surfer dudes this summer:
Pull On Shorts
For a chill surfer boy style capsule wardrobe, I love this grey pull on short that can go from casual to dressier with just a quick change of the shirt.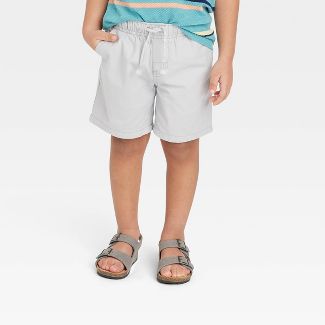 Fisherman Sandals
These are back in for Mom's too, but I will never get over how adorable these are in such a tiny size! My little guy has been rocking them since early spring and honestly his toe is peeking out so it's time for us to hunt for one size up! Trust me they are easy to keep on tiny feet too.
Endless Summer Rashguard
Trust me these one piece sets just make life easier for a Grom who loves to be in the sun, sand, and water or even just splashing in a backyard baby pool. I love how easy these Caden Lane Rashguard swimsuits make diaper changes so easy with the snap bottoms and sunscreen application is a breeze since your little guy will already be so well protected. Finally this pattern could not be any more perfect for what is bound to be a memorable summer!
Trendy Beach or Beach Inspired T-Shirt
Let your little guy rock a t-shirt from your favorite beach spot this summer or snag a beach inspired one from your favorite store. When we visited Seaside over Christmas I purposefully bought my little guy an oversized t-shirt so he could rock it this summer. I love that it's a conversation starter for others who share a love for that same vacay spot. I also love beach inspired t-shirts for when you want to keep the vacation state of mind going like this cute one from J. Crew.
Hat to Keep Cool
My little guy is just not a hat man yet, but I love that this hat ties and is waterproof so that even when he pulls it off it isn't soaking wet when I battle him to keep it on. The white is perfect because it pairs with any outfi
4th of July Pajamas
Chances are your little one might not make it to the fireworks this 4th because bedtime and loud noises, but they can still party with the cutest pajamas! Hurry there are still some of these Crabby Cuties left and trust me when I say these are some of the softest and strongest bamboo pajamas we own.
Short Set
I love buying an already paired outfit for my little guy because I it's easy to then keep the set together or use the top or bottoms to pair with other items that we already own that match. This little Shark Short Set from MudPie is just perfect for my beachy boy capsule theme and I can already picture myself singing "Baby Shark" everytime he wears it.
Organic Summer Overalls
This set is perfect to pop on after a full day in the sun! I love how it screams summer with the gingham and will help your little guy look pulled together while still being effortlessly casual! This set from Little Planet by Carters is certified organic cotton so it not only looks good it feels great too!
Polo Shirt Just Like Daddy
Keeping with the blue ocean theme for our little surfer boy there could be nothing cuter than snagging matching Vineyard Vine polos for Father and Son!
Dressy Jon Jon, but Make it Beachy
Okay even casual little surfer boys need to get polished every once in a blue moon so grab this Cecil and Lou blue Gingham Seersucker Smocked one with anchors to bring the coastal vibe.
Hopefully this list offered some quick add to carts for you and/or inspired you to look for similar styles for your little guy this summer. What other must have items are in your little guys summer capsule wardrobe? Wishing you and your little surfer many sun kissed memories!