Your little one has been fussy and you've discovered that they have a tooth cutting through! I know it can be a struggle to figure out how to provide your baby with relief during the teething stage but there are some ways that you can make this challenging stage more bearable.
Here's a few tips on how to survive teething:
Know when to expect a tooth
Knowing a time frame of when each of your baby's teeth will erupt can help you prepare ahead of time in order to make things easier for you and your baby. Generally your baby's first teeth tend to break through their gums around 6 months of age (Cleveland Clinic, 2023). Check the chart below for a general guideline of where and when your child's teeth will erupt: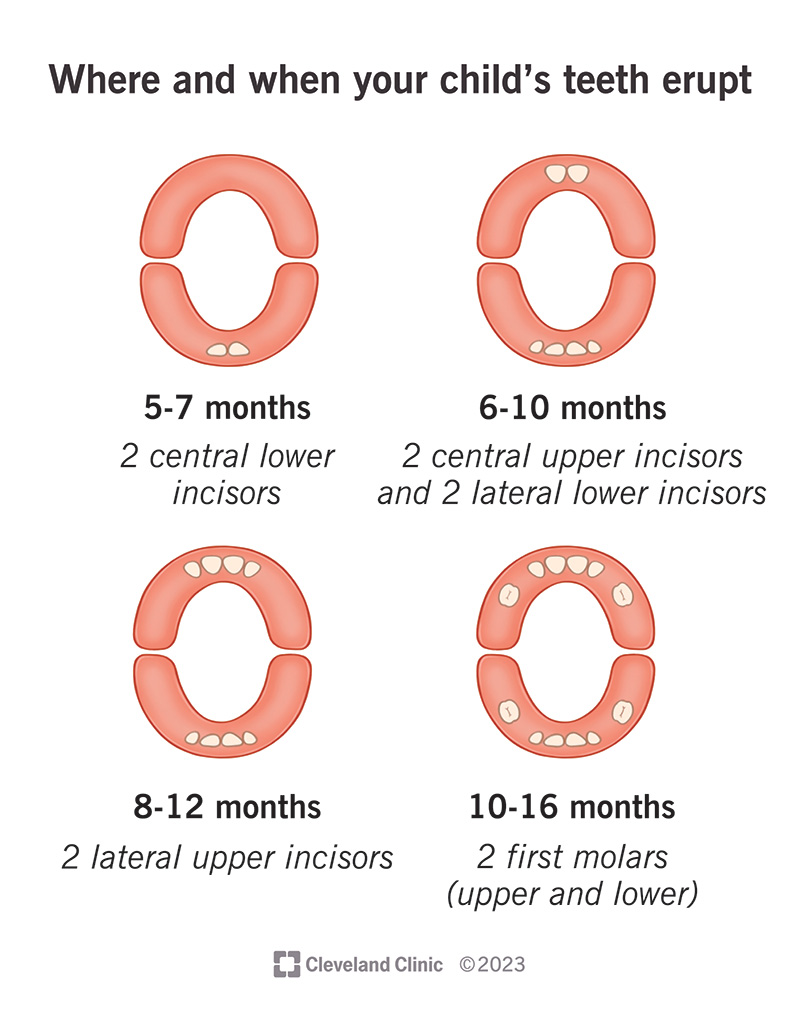 Know the early teething symptoms
By knowing the early teething symptoms it can help you have an understanding of what's going on with your baby, as well as what they may need some relief from. It can help put your mind at ease. Some symptoms in teething babies include:
Increased drooling
Red, swollen gums where the teeth are about to erupt
Difficulty Sleeping
Decreased appetite
Biting/chewing on objects
Know how to safely provide relief
During the teething stage your main concern is how to decrease your baby's discomfort. What works for one baby might not work for another so it's nice to know of a few options to try out. A few safe options to help soothe a teething baby are:
A Gum massage (using a clean finger or moist washcloth)
A teething cracker
Solid rubber teethers
If your baby is inconsolable you can reach out to their provider about giving a small dose of children's pain reliever
According to the FDA, you should avoid giving your baby over the counter teething medications and gels that have the ingredient benzocaine. Additionally, teething necklaces and liquid filled teethers are not recommended (webMD,2022).
Remember that the teething stage wont last forever and it will get easier overtime as you figure out what works best to soothe your baby.
Sources:
Cleveland Clinic. (2023). Teething (teething syndrome). Cleveland Clinic. https://my.clevelandclinic.org/health/articles/11179-teething-teething-syndrome 
WebMD. (2022). Teething in babies: Symptoms and remedies. WebMD. https://www.webmd.com/parenting/baby/teething-symptoms-remedies#091e9c5e813c2c90-2-5