My Baby Boy is One! Seriously, please tell me why the first year has to go so quickly? Even before he was born I knew if we were ever blessed with a little boy, I wanted to do a golf themed nursery so it was only fitting to give our tiny golfer a Hole in One Themed First Birthday! My husband was a golfer on the golf team in high school when we met and it is still one of his favorite hobbies today so naturally he hopes one day to share his love of the game with our little guy. From the way JB took to the golf set he received for his first birthday I think Daddy will have a sidekick for life on the course!
Here's a quick peek back at his "birth" day in the softest Caden Lane personalized blanket and nursery! I honestly can't recommend this blanket enough as the perfect announcement blanket and stroller blanket all in one!
With the Hole in One theme selected, we sent out a cute E-vite that had a golf cart on it to friends and family.
We used the below wording to make it even cuter, but if you prefer a printed invitation Etsy has some adorable ones like the one below!
We wanted to do a Brunch time given mornings are this little man's best time right after his first morning nap so we scheduled the party at 10:30am!
Golf Inspired Brunch Menu!
When everyone arrived we quickly got all the food out and here is our brunch/golf inspired menu!
"Birdies" – Chick Fil A Nuggets which happen to be Little Guy's favorite!
"Master's Sandwiches" – My Grandmother made yummy homemade pimento cheese, which is a staple at the Master's Golf Tournament. She also made PB&J's which were a hit for the kids and adults alike! To make them fancy and even more enjoyable she cut the crust off, which is such a simple trick to making sandwiches more kid friendly!
"PAR" Fait Fruit Kabobs – I used these long white tees from Walmart to skewer strawberries, green grapes, pineapple, and blueberries for a quick healthy bite!
"Chip" Shot with Dip! – Ruffles Chips with the classic Dean's Sour Cream and Onion dip is always a party must have!
"FAIR" Way Breakfast Casserole – To really ensure we captured the brunch theme we made my go to breakfast casseroles, which I've already shared in the Christmas casserole blog post! These were so nice to have both for the actual day of party and then there were just enough leftovers to have as breakfast for the morning after the party when Mom and Dad were exhausted!
"Divot" Delight French Toast Casserole – It was a hit and nice to have something sweet among all the savory!
"Golf" Ball Donut Holes – These were a last minute addition the menu and honestly they were gone in a flash!
Hole In One Decoration Inspiration!
I had so much fun sourcing all the cute decorations and planning the menu for JB's party so here are the must have's! I tried not to go over board with decorations because I think the focus should always be on the "Birthday Boy or Girl" especially for the first birthday!
Monthly Photo Banner! This is always one of my favorite decorations at a first birthday because it's amazing to see the transformation they make in just 365 long, but short days! Pro Tip: I actually love doing this beyond the first birthday too and my children each love when I print special pictures of memories they have made throughout the past year between their birthdays! It's also a great reminder to print those pictures!
Plates – I found these regular plates and cake plates at Walmart and I loved the price as well as the blue and green that kept our theme! I had seen some other golf themed plates on Amazon, but they were too much of an investment and honestly I like keeping the theme somewhat understated which these plates did!
High Chair Banner – This is another essential decoration because chances are the smash cake pictures from your little one's first birthday will be the ones you cherish! I happened to find a lady selling an entire little "Hole In One" party decoration package that she had used for her little man, which included the below banner. I found the link to the Etsy page she bought it from, but I love that I saved money by buying it second hand.
Marquee Letters – These were really cute and they spelled ONE over our fireplace, which were part of the bundle I purchased through FB Marketplace. I linked some similar ones here!
Golf Baskets – I actually bought these originally for little man's nursery because they looked so much like the little golf ball baskets and I repurposed them to hold the "golf ball" donut holes.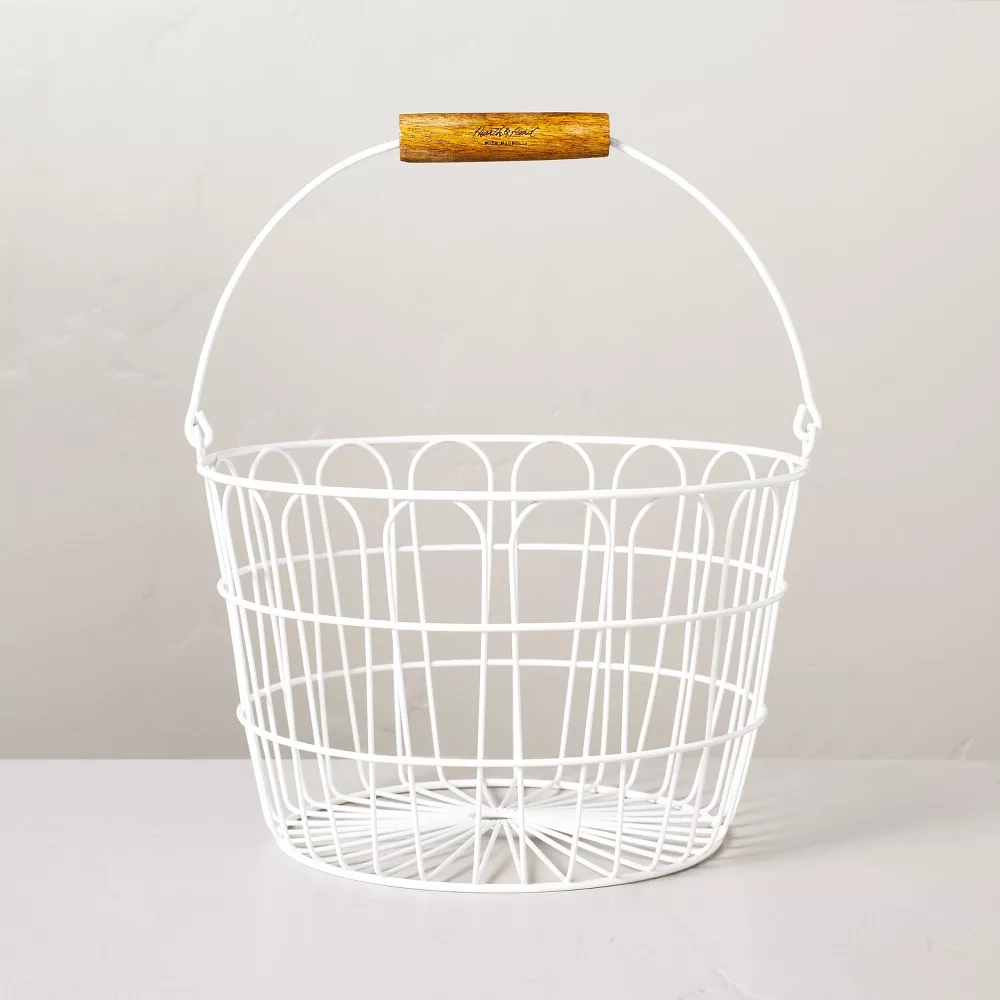 Golf Ball Smash Cake
Seriously this is the highlight of any First Birthday party and we were lucky to work with our local bakery to get the cutest smash cake for our little man! He smashed it so quickly and loved every bite! His big sisters also helped him finish it off and my oldest daughter is already asking for another sibling just so she can have another smash cake!
Gifts for the Little Golfer that Double as Decor and Activities!
Finally here are some great gift ideas for the little golfer, which can double as adorable decorations or activities during the party!
This rocker I got a few years ago FREE from a local buy, sell, trade page and unfortunately I don't think it is sold anymore, but be on the lookout on your local FB Marketplace or similar pages. In the meantime here is another cute motorized kids golf cart that your little could grow into!
My hubby also grabbed this putting mat, which he plans to use post party and it was a hit for all ages!
Finally this may be one of my most favorite decorations/gifts that my hubby created for JB's special first birthday. My husband took the classic red cozy coupe we had used for all three of my girls and turned it into a cute little golf cart for JB! It's already a hit and we love that we just repurposed a toy we had aleady!
Birthday Attire!
There are so many adorable outfits to choose from with this golf theme, but when I was planning I found that the Bitty Boutique on Etsy had outfits for both my little birthday boy and adorable coordinating dresses for my girls! The outfits were great quality and I know they will be wearing them all spring!
Here are a few other outfits that would be perfect to fit this theme that are too adorable!
All the planning and hard work paid off because our little golfer, family and friends all had a great time! The party was a "HIT" and I hope someone can use this as inspiration for their little lad or lady's party!