We've all heard the phrase "Breakfast is the most important meal of the day" right? Well I've never been a huge breakfast person early in the morning. I love a brunch at around 10am but breakfast has never been a favorite. I'm a grab and go girl, typically going for things like a bar or a yogurt cup. But now that I have a little one who is eating solid food, it's been an adjustment needing to think about having breakfast ready every day. But after a couple months, I've got some go-tos that are pretty healthy, simple and quick while also offering some variety.
Pancakes and Waffles
I know, I know, this does not sound like a quick simple meal because it involves a little bit of prep and cooking and more than one dish. BUT, what I love about this, is I can make a big batch on one day when I have a little more time and it can cover breakfast for several days. When I make pancakes or waffles, my recipe often makes around 12-14. Whatever we don't eat, I wrap individually and then freeze. When I need a quick breakfast another day, I just grab one from the freezer and either microwave it or pop it in the toaster to heat it up.
We use this mini waffle maker and it makes the perfect sized waffles that cook in just a couple minutes and it takes up very little kitchen space! Grab it at Target for $10!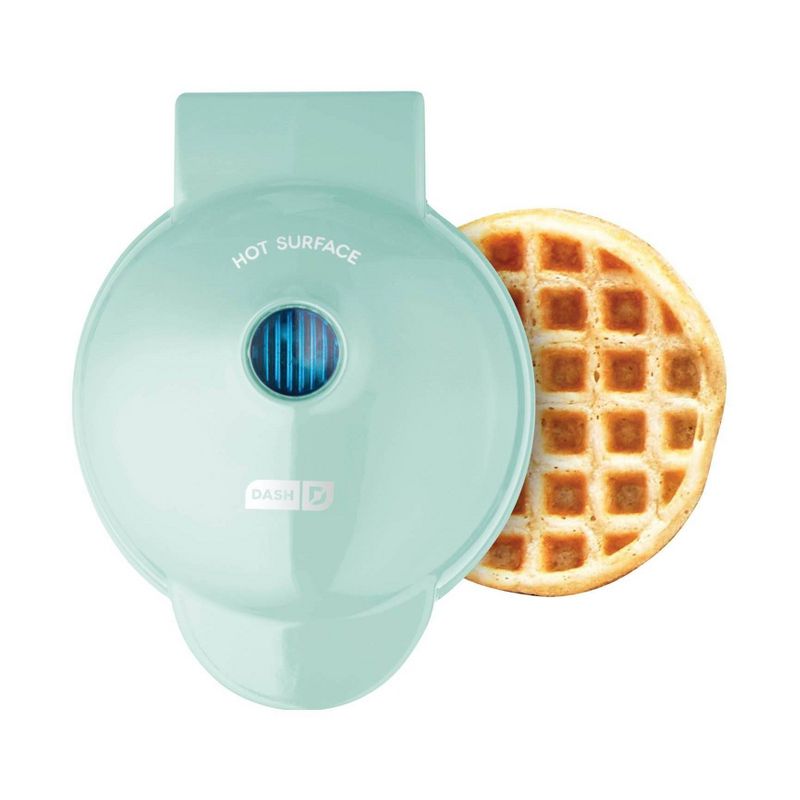 Pro Tip: To keep pancakes or waffles from being too boring and to encourage adventurous eating add mix-ins to the batter or top with different spreads/toppings. You can add in things like berries, bananas, spinach, choc chips (in moderation), top with nut butters, ricotta cheese, cream cheese, apple butter etc.
Eggs
When looking for a more protein rich breakfast option, I like to offer eggs! I've discovered that my little guy doesn't love scrambled eggs BUT he loves hard boiled eggs. This is great for me because I can prep hard boiled eggs for the week in advance. I make a big batch of hard boiled eggs and keep them in an air tight container in the fridge. I'll often serve it alongside some fruit or toast with a spread of some sort to make a more complete breakfast.
To make it even easier, did you know you can make hard boil eggs in your air fryer?!
Another favorite egg option are these delicious little mini egg frittatas. They have the added bonus of some veggies and are so yummy! Both myself and my little guy are a fan. You can find them at most grocery stores or in bulk at Costco. They heat from frozen in 45 seconds!
Leftovers
Hear me out on this one. Babies don't know what "breakfast" food is. So if you have dinner leftovers from the day before, you can totally bust them out for breakfast! I love it because I know he's getting a pretty filing breakfast, it's easy because it's already made and keeps me from wasting food. My little guy has eaten pasta, chicken, broccoli and beans for breakfast and was a happy camper.
Yogurt
Yogurt is a great option because you can serve it often but vary it with different flavors and mix-ins so it doesn't feel as repetitive. You can serve it plain, you can add nut butters (good for allergy exposure), add fruit mixed in or to dip in it on the side. You can add baby cereal into it to make it a little thicker and easier to eat (plus giving a boost of iron). It's a great way to let baby practice with a spoon too! The caveat of yogurt is that it is not the world's cleanest breakfast if you're letting baby self feed. I recommend either getting a smock bib or letting them eat in just a diaper to help with the clean up.
These aren't the only things we do for breakfast, but they are the most popular in my rotation. Have any great ideas to add to my breakfast repertoire? Share them with all the Caden Lane mamas in the comments. Happy eating!