The chaos of the holiday season is upon us, and you might have a list ten feet long of all you need to do and who you need to buy gifts for. I am here to remind you though Mama, not to forget about yourself! You might buy fun advent calendars for your children each holiday season, and you see the joy on their face when they open a new box or window to see what that day's excitement will bring. Who says you can't have just as much fun? Whether you are looking to splurge on yourself this holiday season or maybe just want to join in on the advent calendar fun, I am sure there will be something on this list for you!
Pro Tip – gift one of these advent calendars to a very deserving Mama in your life. Your best friend, cousin, sister, coworker, neighbor…any mom who is just waking up each day and doing their very best, deserves to be pampered and spoiled a little bit too this holiday season!
Mama, do you run on coffee? If you appreciate a hot (but usually lukewarm) cup of coffee, this is a fun way to enjoy your coffee each day and participate in the countdown excitement to Christmas. Peel back the number on these single serve pods to reveal your coffee of the day. Perfect to keep you or any hard working Mama in your life caffeinated this holiday season!
If coffee isn't your thing, but you enjoy starting your day with a hot cup of tea, this Pukka Tea Advent Calendar is perfect. Complete with 24 tea bags, you can try something new each morning, as you countdown (and keep sane!) this holiday season. This advent calendar is also available in red HERE, if you prefer that color.
Take a minute this holiday season to put yourself first. With all of the overwhelming stressors that come with the holidays, it is easy to keep going and forget to take care of your mind and body. This mindfulness advent calendar will require you to take a few minutes each day for you, filled with Christmas themed activities, to keep you focused on yourself.
This advent calendar comes with 23 mini fruit spreads, plus one honey – and each is the perfect size to sample each flavor throughout the month of December! This would pair well with a coffee or tea advent calendar to make for a delicious start to each day. If you love to host gatherings during the holiday season, (and don't mind sharing) these mini jars would also work well on a charcuterie board.
You're a busy Mom, and there might not be enough hours in the day for you to give yourself the TLC you deserve. By the time you get the kids to bed and have a chance for some self-care, most nail salons are closed, and you might be too tired to even want to socialize at that hour. This OPI nail polish advent calendar comes with 25 color options, so you will have quite the collection when all is said and done.
If you are the mom who looks forward to their quiet night after the kids are in bed, and you want to grab a glass of wine and binge watch some TV – this is the advent calendar for you! Filled with 24 mini bottles, you are sure to sample a variety of wine throughout December, and may even find a new favorite. This wine advent calendar concept is available at a variety of retailers, for a range of different prices, this particular one is $79.99 and available at Total Wine.
If wine isn't your thing and prefer liquor and mixed drinks, there are options for you too! This particular advent calendar includes 12 mini bottles of a variety of liquor including vodka, whiskey, tequila, rum and more! This advent calendar also makes a great gift to bring with you to friends or family's home this holiday season. Pair the advent calendar with THIS fun cocktail coloring book to add to the countdown excitement this season.
Beauty Product Advent Calendars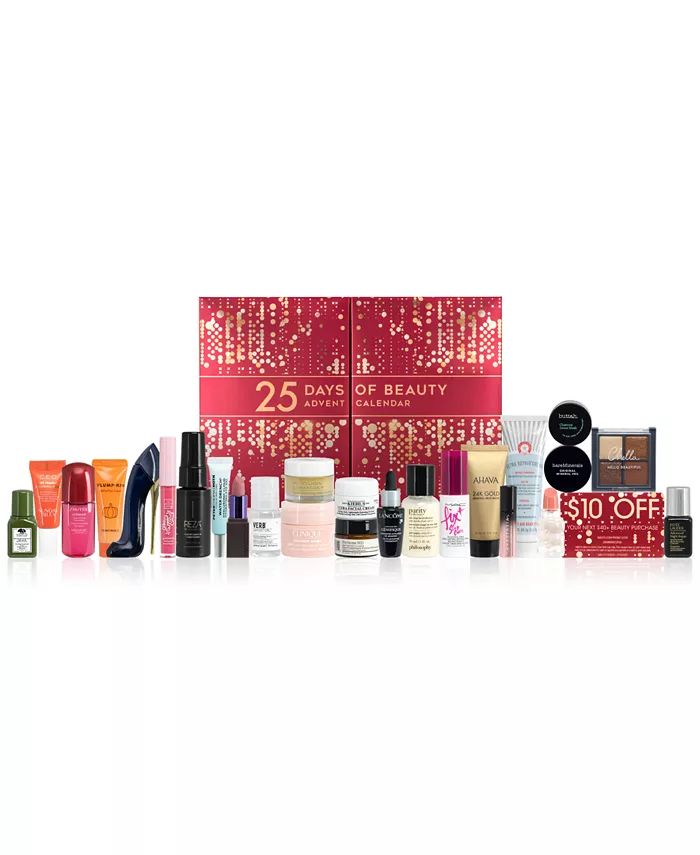 Makeup and beauty product advent calendars are always a popular choice for any Mom, and there are so many options out there. Macy's beauty advent calendar includes a variety of beauty products from lipstick to lotions. You can also check a specific store or brand for their beauty advent calendars, as many make their own specialized advent calendars for the holiday season.
Ulta offers a few advent calendar options including this 12 Days of Beauty set, Sephora has many options available including their Sephora Collection Wishing You advent calendar, and specific brands like NYX or Bare Minerals offer their own beauty advent calendars as well. This is a category that has truly endless options, so you are sure to find something that works for you!
Healing stones and crystals are very popular right now, as people learn and explore not only themselves but the world around them. If you are a mama who enjoys the healing magic of crystals, this advent calendar includes 12 days of inspirational self care, including messages and action steps. You can also find some really beautiful options on Etsy if you like this idea but are looking for something slightly different.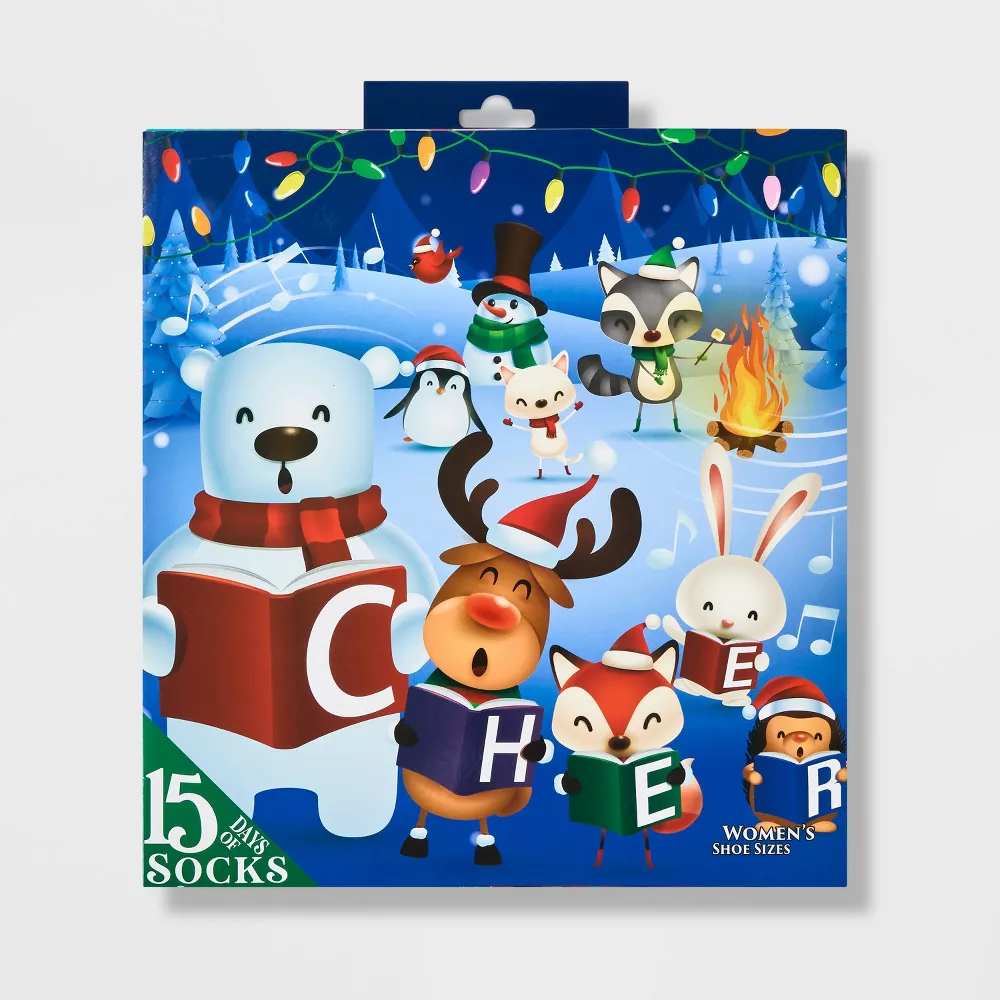 This is another category of advent calendars that offers so many varieties. You can find general sock advent calendars like this one at Target, or you can find more specific sock advent calendars, depending on interest, like this Friends, Harry Potter or Star Wars. All of these options are available at Target, but there are also sock advent calendars available at stores like American Eagle, JcPenney, or Kohls.
This is such a fun idea if you enjoy reading and discovering new books. There are a few options available on Etsy, some are even grouped based upon the theme of the books, but all are a fun idea! While the holiday season is absolutely busy, and you may not have time to read a book each day, this is a great way to jumpstart any 2023 goals you have when it comes to self care, reading, or some much deserved Mama time! Pair this idea with some cute bookmarks you can print right at home like THESE ones to compliment your entire advent calendar experience perfectly this December!
Candles are a favorite accessory to any home all year long, but especially during the holiday season! There are so many varieties of candle advent calendars, and they are available in a range of price points so you are sure to find a perfect fit for you or any special mom in your life. If you already have a wax warmer, and don't want to add more candles to your collection, you can opt for something like THIS Wax Melt Advent Calendar and open a festive wax melt each day.
Who says the excitement of Advent Calendars are limited to just your children?! While you could always choose to have a chocolate, popcorn, or some type of snack related advent calendar, there are so many more fun ideas out there. Take an idea you see here and search for something that works for you, or order any of these advent calendars directly – either way, you also deserve to have a little bit of fun during the holidays! Find an advent calendar that peaks your interests and enjoy counting down to Christmas with your little ones!