As we steadily move into the beautiful Spring weather, it is hard to believe another school year is winding down. Your children are quickly getting older and smarter – and you may have some really amazing teachers to thank for that. End of the year gifts for teachers are not necessary, however it is something many families choose to do.
Gifting your child's teacher something small at the end of the year is a nice way to show your appreciation. If you choose to do something for your child's teacher, steer clear of the coffee mugs (I am sure he/she has plenty!) and consider something unique and thoughtful:
Summer Pitcher Gift Basket
Teachers deserve to enjoy some time to themselves this summer, so a summer themed gift basket is a great idea. I love how this "gift basket" is actually a practical drink pitcher, so not only can it hold all of the goodies, but it can then be used all summer long.
Beach Towel Gift
Teachers also enjoy spending time by the pool or at the beach over the summer! Again, I love the practicality of this gift, not only can you stuff something extra into the middle of the towel, but then the towel itself becomes a useful gift.
Cup or Tumbler & Gift Card
If you don't have it in you to be creative with your gift, you can never go wrong with a gift card (or cash!). Teachers spend so much of their own money in the classroom, and all for your child. While you may never be able to repay them for all they spend, a gift card goes a long way. Consider including a gift card onto a cute water cup for the perfect gift! This neutral pencil tumbler is a great alternative to the bright yellow pencil that is often used for teacher gifts.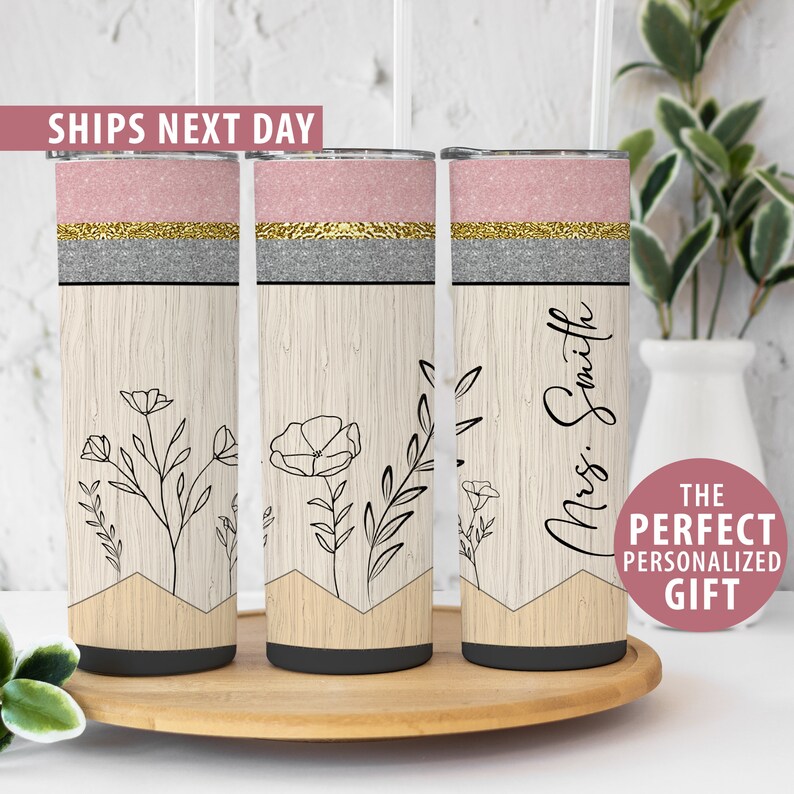 Gifts For The Classroom
We know your child's teacher spends hours a day in the classroom, so a gift to help spruce up the space is also a nice idea! This is a great gift that can come from the whole class, because after all – that classroom was special to each and every one of those students. There are so many different options, but I highlighted a few of my personal favorites.
Handprint or Fingerprint Art
The most thoughtful gifts for teachers often come from the heart. Your child's teacher will never have this particular group of students again. Handprint or fingerprint gifts would be the perfect way to end your child's school year with their teacher. If you are able, consider getting the whole class together to add their handprint or fingerprint to something like this:
Again, end of year teacher gifts are never expected, but always appreciated. If your child had a particularly special teacher this year, take some time to appreciate him/her. A little appreciation and thanks goes a long way.