I am not one for buying loads of maternity clothes when pregnant. When I was pregnant with my first and started needing maternity items, I was shocked at how expensive things were. And how little choice there was in stores. So I decided I would find some reasonably priced basics that could get me through most days and that I could mix and match with items I owned already that weren't maternity but sill fit. Here's what I grabbed with my first pregnancy- pregnant from October-June.
Maternity Jeans
I just don't think you can get away without purchasing a pair of maternity jeans. If you're looking for a way to hold off, you can try the hair tie/rubber band trick to make yours last longer. But at some point, you're going to want to be comfier in a pair of maternity jeans. I ended up buying two so I could have two different styles and to make laundry easier. If you're not on a budget, I've heard great things about Madewell maternity jeans. But to me, I wanted to keep the cost down since I was going to be wearing them for a pretty short timeframe.
I have these from Target that are a great simple, dark wash, over the bump pair. And even at full price they're only $29.99!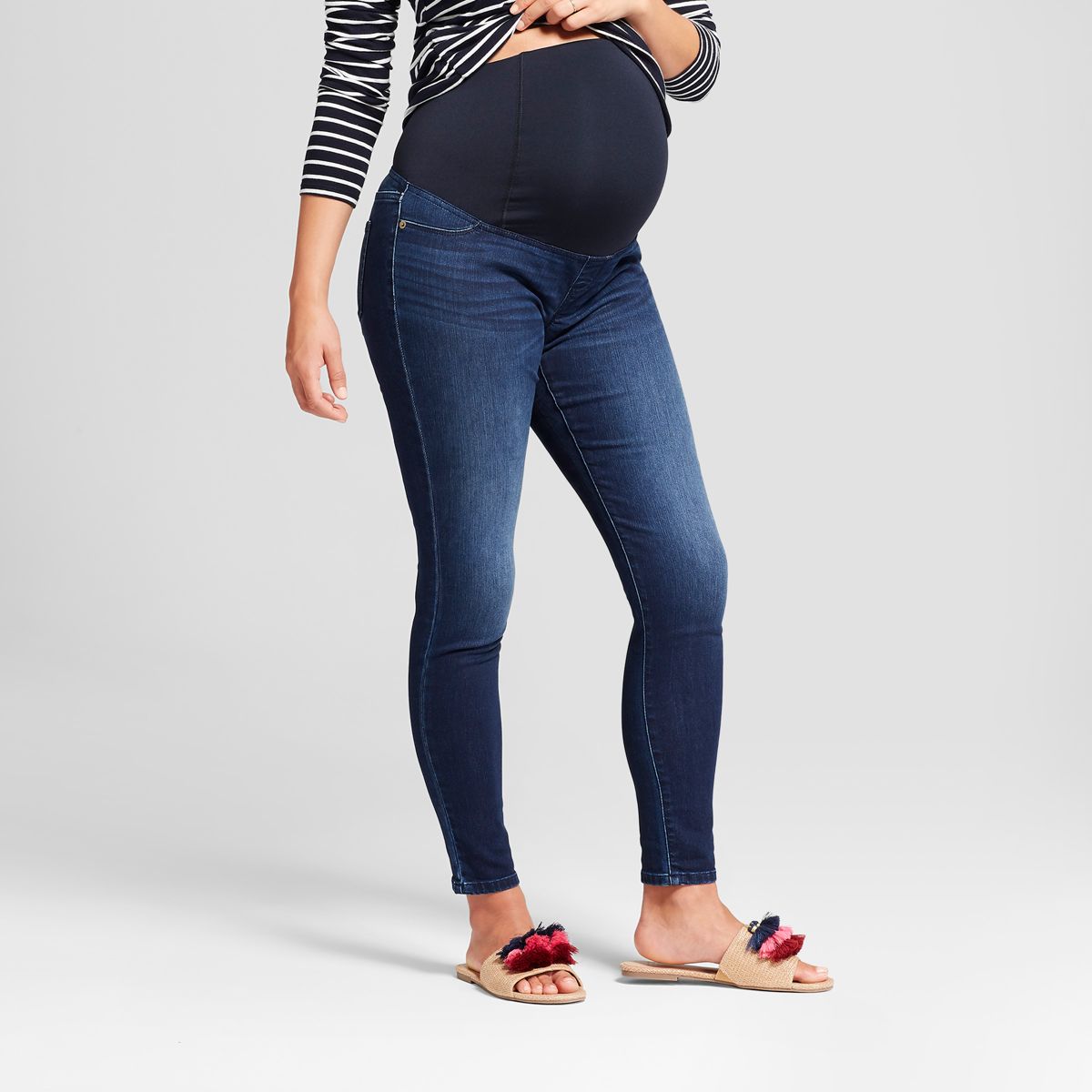 I also have a pair of skinny, distressed jeans from Old Navy. The actual pair I purchased aren't available anymore but are almost identical to these. They're a little pricier than the Target option at $54.99 but are my favorite pair. They fit great, stay up and are super comfy! And if you keep an eye out for sales or use their Super Cash you can definitely get them for a great price! Like right now they are 30% off making them only $38!
And if you're not a millennial trying to hold onto their skinny jeans with a white knuckle grip they also have lots of other styles!
Maternity Leggings
Similar to the jeans I just think these are a must buy. Perhaps your leggings will continue to fit you or sit under your bump but that was not the case with me. And especially if you're pregnant in the chillier months, you'll want some leggings. I have tried several pairs and they are not all created equal. I found that many of them, the belly panel slid down or the material felt see through etc. My favorite pair are these from Ingrid and Isabel. Very comfy, great amount of stretch, not see through, don't slide down throughout the day and a great price!
Maternity Tops
Having some basic tops, allows for easy mixing and matching with different items. You can wear with jeans or leggings, add a sweater, jacket or other accessories to differentiate the outfit without having a bunch of new tops. I bought three of each of these tops and wore them all through my first and now my second pregnancy. They have held up so well through a lot of washes and held their shape even with my growing belly.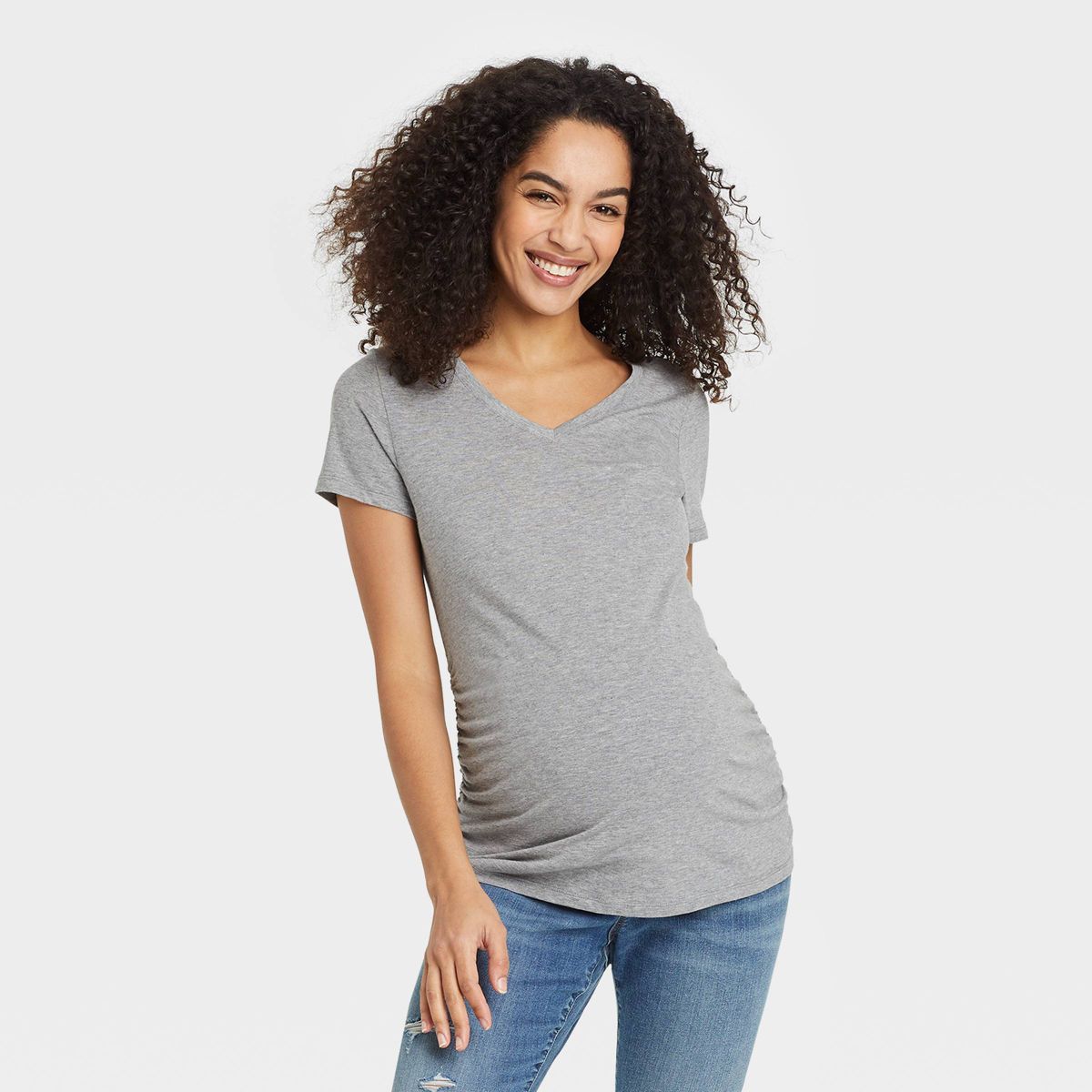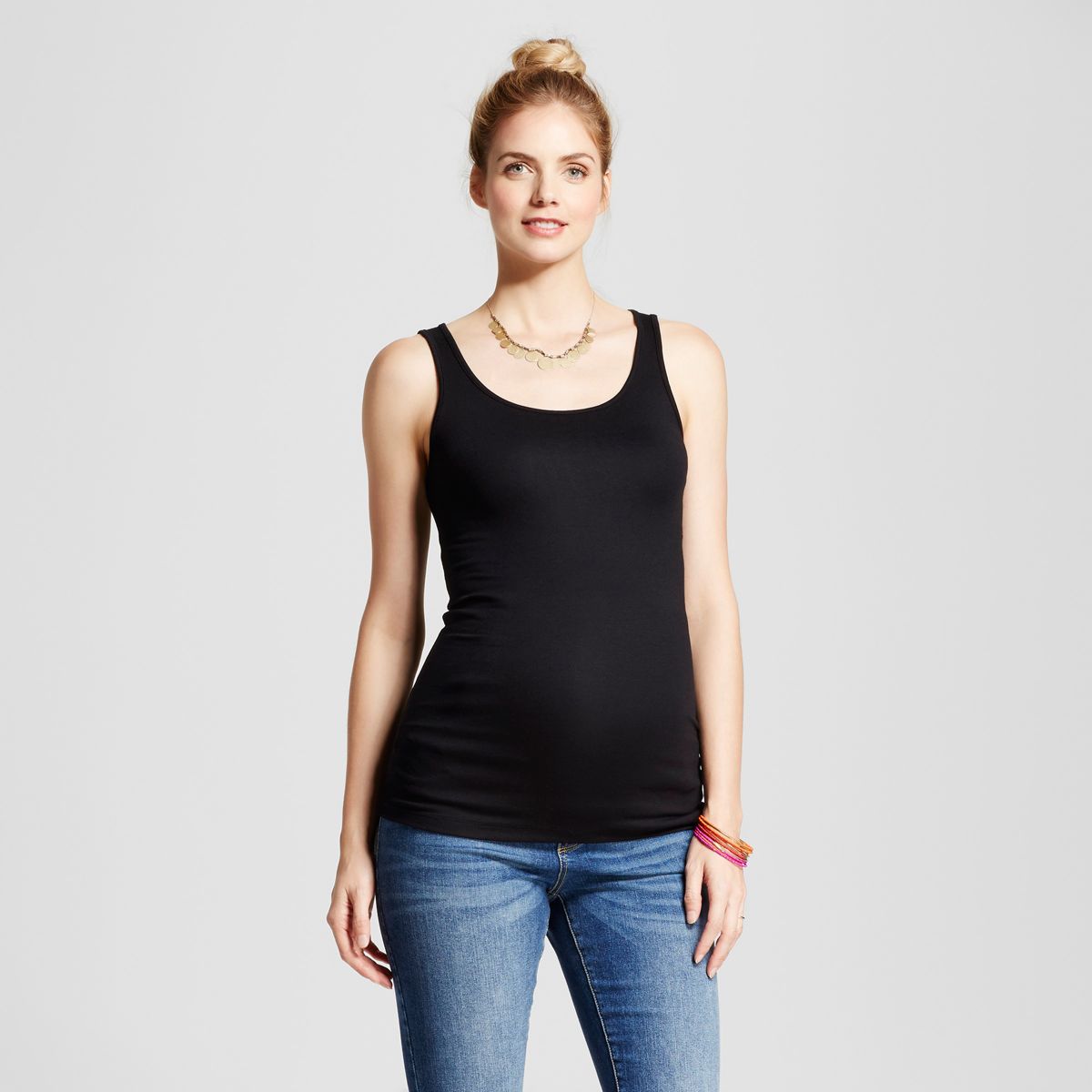 These main basic items will be so helpful for dressing for your growing bump. They most likely won't be everything you need though. If you're heavily pregnant in the heat of summer you're going to want some maternity shorts. If you have any special occasions during pregnancy like a wedding or other fun event, you'll want to look for a maternity cocktail dress. But by saving on some of these basics you'll have ore room in your budget to grab a few extras as the need arises.
Other Tips
BORROW! Do you have a sister, best friend, neighbor that has been pregnant recently. See if they have any hand me downs for you. I was able to get several items from my sister and a friend that gave me some more variety for no extra cost!
Hit up the thrift stores. A lot of second hand stores have GREAT quality maternity items. Because these items are often only worn for a short amount of time, they end up in the thrift stores still in great condition so swing by your local one and check it out.
Buy for both pregnancy and postpartum- If you're wanting to make sure you're getting the most for your money think about buying things that would work both during and after pregnancy. So buy looser fitting tops and dresses that won't restrict a bump but will still fit and be flattering after baby is here.
Take inventory of what you have already- You might be surprised at how many items you own already will work with your growing belly (at least part of the time). Again, look for tops or dresses that are more flowy without a fitted waist, pants that stretch or that can sit below your belly, oversized sweaters etc.
If you have any budget friendly maternity basics to share, we'd love you to share them with our community in the comments!