In the eyes of a child, picking out Valentine's day cards to hand out to their classmates is a big job! There are so many options, and your child has so many interests of their own. Not only can Valentine's day be filled with endless treats to begin with, there are often allergies to consider when handing anything out in school.
This year, think about picking out valentine's day cards that aren't food related, so there is no worry. There are SO many fun options out there, all of which are sure to be a hit in your little one's class this year!
It is a valentine and an activity all in one. Perfect to share with classmates and maybe instill some friendly competition at the class party!
Pop-its are trendy, fun and a great fidget for those little fingers! There are a few options out there when it comes to pop it valentines, I like the individual heart pop-its, but THESE pop-it bracelets are cute too!
Who doesn't love bubbles?! These are a great option if you are looking for that unique valentine, that is sure to entertain little ones for a while!
Similar to the pop-its, squishy fidgets are also very popular right now. These are the perfect size for little hands, but easy enough to fit inside a valentine box/bag at school.
I love the idea of a valentine that encourages critical thinking! There is nothing wrong with fun valentines that also require some brain power. These are a great option for an older child as well.
These puzzle valentines are the perfect size, as they are just challenging enough for little ones, but shouldn't cause too much frustration. Again, I love the idea of mixing the class valentines with an engaging activity!
These are one of the cooler valentines I have found, but they definitely require patience and fine motor control, so be mindful of this when deciding if they work for your child's class. I would recommend these valentines for older children who know to keep the small diamonds out of their mouth and can focus on the intricate detail.
Another fun sensory fidget, but with a dinosaur twist! Watch how long a simple squishy & stretchy dinosaur can keep little hands occupied – you will be impressed!
Another unbelievably cool valentine! Simply place the egg in water and wait roughly 12 hours for the egg to crack and the dinosaur to appear. A good lesson on patience, with a dinosaur reward at the end!
I love this set because there are so many sticker sheets included, it is perfect for multiple children. You can attach these stickers to a valentine card of some sort if you choose, however you can also just have your child sign the back of the stickers and the valentine is complete!
Is slime still all the rage in your child's class? These small heart shaped slime containers are sure to be a hit! With a few options on the market, I am confident you will the perfect slime valentine!
Scratch art seems to be an activity that has been popular forever! Children have always loved the mystery of scratching a design into the magic paper and seeing the rainbow of colors appear. This unique valentine will not disappoint!
Gel Clings Valentines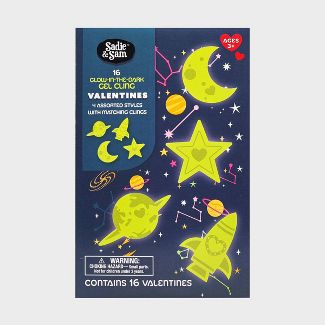 These gel clings are fun to put on a window and are easy to reuse and move around. The glow in the dark feature is also a bonus! There is also a cute unicorn option available HERE.
Scratch Off Valentines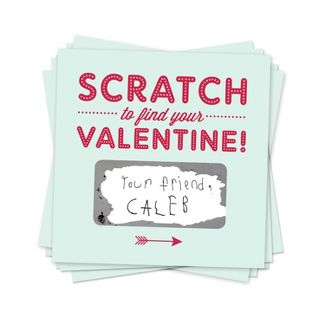 These scratch off valentines are fun all on their own, but also would be cute to include with a piece of chocolate or lollipop if you so choose (certainly not necessary!). This is also a great idea for an older child who might be "too cool" for those fun trinkets and toys, but still wants to hand something out to their class. Target has a few scratch off options, and Amazon even has some fun scratch off joke valentines.
Sticker Valentines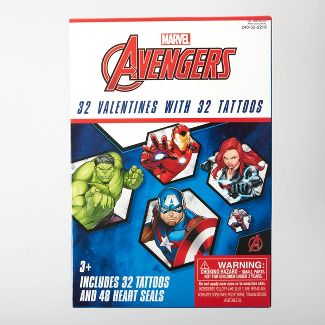 Sticker valentines are a classic valentine for little ones to hand out, and there are so many options available! This is the perfect route to take if you are looking for a specific character(s) that interests your little one.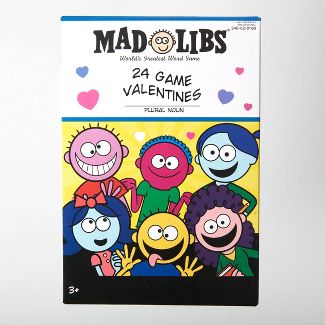 These mad lib valentines are a creative way to hand out valentines and keep it fun! Everyone's valentines will be different as they fill out the blank spots. Another great choice of valentine for those older children!
Valentine's Day, especially in school, is filled with fun and games from start to finish! Between class parties, treats and handing out valentines, there are so many memories to create. Little ones take their choice in valentines very seriously, so find something creative, something that fits your little ones interests and age – and hand out those perfect valentines this year!