Reading special books around the holidays is a wonderful family activity. And adding new books to your collection each year is a great tradition to start! As a former teacher I love to pick out special books for children to enjoy and I've got 15 of my favorite Thanksgiving books to share with you. I've included a few books for even your littlest readers and several others that would be great for kiddos through the elementary ages. I hope you find one your family can enjoy!
Board Books for Young Readers
Five Little Thank Yous.
This board book shares five important things to be thankful for with fun rhymes and bright illustrations. After reading you could make your own hand print turkey craft with your little one and let them share what they're thankful for!
Where is Baby's Turkey?
We know the classic "Where is Baby's Belly Button?" is a favorite in many households. This sequel is just as fun with lift the flap pages that your baby is sure to love.
123s of Thankfulness.
You can practice counting to ten while discovering the joy of gratitude with this sweet book. It has delightful illustrations and could be used to jumpstart some great conversations about thankfulness with your younger kiddos.
Picture Books Everyone Will Enjoy
Pete the Cat: The First Thanksgiving.
Everyone's favorite cat is set to star in his school's Thanksgiving play and readers get to learn about the true meaning of Thanksgiving alongside him. It's also a lift the flap book, adding to the fun and making it a great addition to your Pete the Cat collection.
Thankful.
While not a Thanksgiving book specifically, it teaches all about how to be celebrate everyday blessings and have a grateful attitude. It would make the perfect bedtime read leading up to Thanksgiving!
Ten Fat Turkeys.
I love a good rhyming book for young children. And this one also teaches how to count backwards! Filled with silly turkey antics it will encourage some giggles during your holiday reading.
Around the Table that Grandad Built.
This is another one that isn't directly about Thanksgiving but still fits perfectly for the holiday. It is a heartwarming story about gratitude, family and gathering together. The sing-song style of writing is a new take on the classic " This is the House that Jack Built".
Turkey Trouble.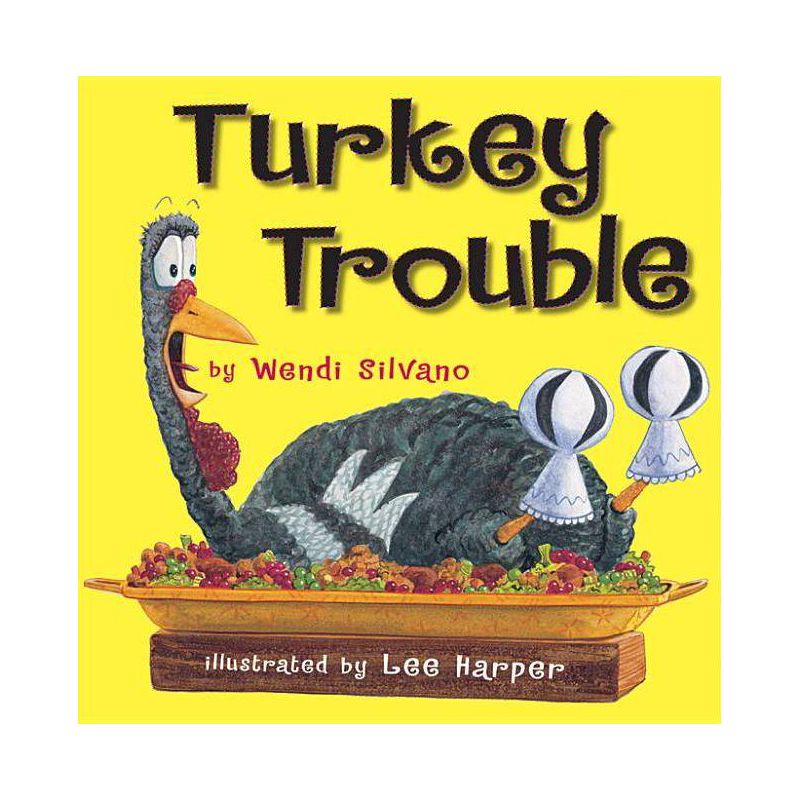 This story is sure to make your little ones giggle as the main character (a turkey) tries to come up with a clever disguise in order to avoid being Thanksgiving dinner! After reading you could try and come up with some of your own clever disguises for the turkey!
'Twas The Night Before Thanksgiving.
This book is written by a favorite grade school author Dav Pilkey (author of Dog Man and Captain Underpants).It tells a story of 8 friends and 8 turkeys on the night before Thanksgiving. Like his other books it's a funny one and is sure to entice even some of your more reluctant readers.
Balloons Over Broadway.
I love this story! This beautifully illustrated nonfiction picture book tells the true story behind the first balloons in the Macy's Day Parade. It's a story many kids (and parents) are probably unfamiliar with about a tradition that so many love. It could definitely be a fun one to read before you watch the parade on Thanksgiving!
T is for Turkey.
This book teaches all about Thanksgiving by moving through the alphabet. Each letter has a Thanksgiving fact to go with it. You could even do a Thanksgiving countdown with this book- reading one letter a day starting 26 days ahead of Thanksgiving with letter A and reading letter Z on the holiday itself.
Duck for Turkey Day.
While Thanksgiving is widely celebrated in America, it isn't celebrated the same way at every house. This book tells a story about how a Vietnamese family celebrates Turkey Day in their house…with no turkey!
The Story of the Pilgrims.
This is more of your classic Thanksgiving book that will teach all about the first Thanksgiving starting from the treacherous voyage across the ocean. It's perfect for your young history buff!
Early Chapter Books
Thanksgiving on Thursday.
This Thanksgiving installment to the Magic Treehouse Series brings an element of adventure into the holiday as the characters head back in time to the first Thanksgiving. This book also has a companion book "Fact Tracker" if your kiddo wants to take an even deeper dive.
Molly's Pilgrim.
This touching book parallels the story of Thanksgiving with a more modern story of a young immigrant trying to adjust to her new home. This is a great option for a more independent reader or to read aloud with your children.
Books are a wonderful way for you to bond as a family, to bring history to life for children and learning about social-emotional skills. I hope you found one or two on this list to add to your home library. May your home be filled with gratitude, thankfulness and snuggly reading time this Thanksgiving season!