I just watched the Friends episode, "The One with the Holiday Armadillo!" and was reminded that Christmas (or Hanukkah, or Kwanzaa) with kids is never picture perfect! I'm sure everyone has that Christmas…"The One" where just about everything can and will go wrong.
Well with four littles our family has had quite a few of them! I know we will be telling our children these Christmas stories for years and years to come, so might as well share them with everyone!
What resonates with me most is that even when all seems craziest in the Holiday season, Christmas Morning still comes with all it's magic and joy. Ain't that just like birthing babies? So much pain, but then when the baby comes you forget it all!
First there was last Christmas! My husband always takes off around Christmas to bake his famous oatmeal cookies (trust me they are AMAZING!) and we had just had the best afternoon letting our three girls help with all the steps. I had a dinner planned with my bestie, who had just gotten in from the west coast, so I ran up to get a quick shower in before heading out for the night. I should have known everything was just going too well. I'm showering and listening to my favorite "Hard Candy Christmas" by Dolly when my oldest comes screaming into the bathroom saying, "Leightyn fell"! Turns out my littlest was still trying to help Daddy and had climbed onto one of our bar stools only to have it topple over with her. Let's just say a few stitches and an ER visit later and our little one was as good as new thankfully, but MOM was a nervous wreck for the rest of Christmas! I am beyond thankful she was fine, but seriously Dolly had it right sometimes it's a HARD CANDY CHRISTMAS!
Then there was the Christmas with the trampoline! At the time we only had two little ones and after "checking the list twice", Santa decided to add one more together gift to round out the year! Unfortunately the gift didn't arrive until Christmas Eve Eve and with all the activities we had planned Santa and his elves didn't have time to assemble it until past midnight on Christmas Day! Let's just say no one really slept that night and Santa and his elves were not on the best speaking terms! Yet the JOY of the jumping faces on Christmas morning took all the pain away!
Finally, there is the First Christmas with our first born! We listened to all our other parent friends advice and didn't overdo it. We had the something to wear, something to read, something they want, and something they need boxes all checked. We just underestimated the fact that it takes a rocket scientist to put together a Little Tikes COZY Coupe!! Seriously, my PSA to new parents is buy an already assembled, second hand cozy coupe and thank the parents who assembled it!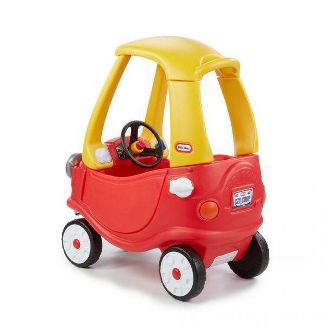 All in all I would never change these CRAZY Christmases for anything because they were all with the ones I loved most! Santa and his elf always make nice in the end and I'm already looking forward to this year's crazy, Christmas story yet I fervently hope it doesn't involve any ER trips!!