You might be just about done holiday shopping for this year, however you realize you are looking for one last thoughtful gift or two. If so, think about a personalized gift. Kids love to see their name on things, and there are some very practical and cute ideas out there. I compiled a list of some of the best personalized gifts you can get for your child this holiday season, but feel free to pull inspiration from this list and look further to find the perfect gift for your little one!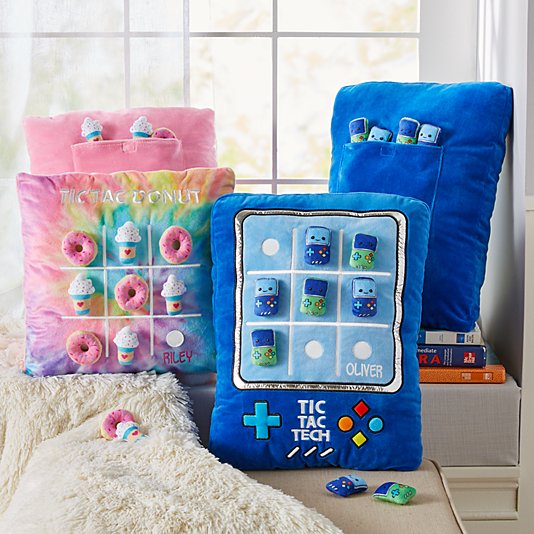 This 2-in-1 gift is perfect for any child, because it can be a pillow to relax with, or a tic tac toe game to play. This is also great for travel, as it can double as entertainment for the car, and a comfortable pillow to rest with when your child gets tired. I love the designs, the storage pocket on the back and the personalization option. This is a gift that you can't go wrong with!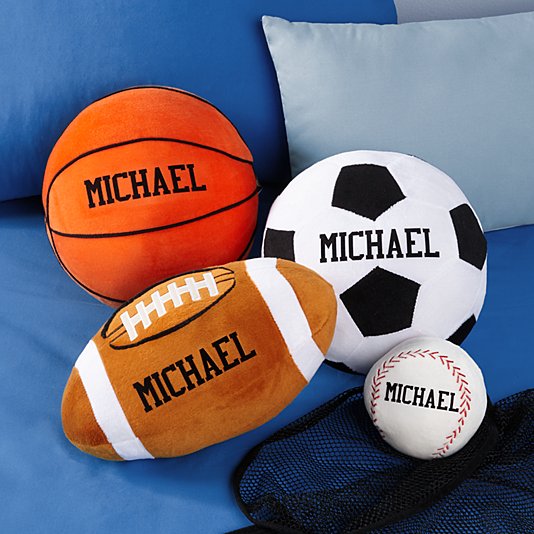 If your little one is not ready for tic tac toe, but you love the idea of a cute & practical pillow – this is it! These personalized sports balls can be used for some safe ball throwing in the house or to snuggle up with. You get all 4 sports balls, so you have options depending on your little ones sports preference.
Puzzles
Now, when it comes to personalized puzzles you have at least 2 options and either are perfect depending on the age of your child. You have a puzzle, like shown above, which is a 30 piece jigsaw puzzle. This style of puzzle comes in many designs, find one that suits your child, add their name, and this is the perfect personalized gift for on the go! Great for fine motor and problem solving work at home, but also perfect to work on while waiting for dinner at a restaurant. The options for personalized jigsaw puzzles CAN BE FOUND HERE.
Your other option for a personalized puzzle would be one that is not a jigsaw puzzle, but rather a name puzzle. These puzzles are perfect for younger children, who are learning their name and are new to puzzles. You can find so many retailers online who create beautiful, personalized name puzzles, who even add animals or shapes around your child's name. There are endless options when it comes to personalized name puzzles. This particular set of personalized name puzzles CAN BE FOUND HERE.
I love this idea for any child, because not only is it personalized to them, but it will spark such creativity! Who wouldn't love to color with a crayon from their own name?! How fun! There are options out there that make each letter crayon an individual color, or you can pick something like this that is rainbow and marbled. This Etsy shop, Art 2 The Extreme, has so many fun options to choose from!
All children love to feel a sense of independence, and feel like a "grown up" so a personalized chair can help with exactly that! It is practical, and can be used in the living room or playroom, and can even be personalized for each child to further encourage that independence. There are a few options, including personalized sofa chairs or even bean bags available, so I am sure you will find something that fits your and your child's style!
While this is particularly specific, there are other options that include flowers and more typical "girl" prints – either way, I love this idea! Not only does it make a cute decor piece in your child's room, but it can add an extra calming light, if your child needs the added comfort at night. This is powered by batteries or USB cord, so you can display it virtually anywhere. While this isn't a toy or something to play with, your child will still love getting to see their name in lights!
Nothing tastes sweeter than some hot coco in a mug with your name on it! These are perfect for warm tea or even soup on those chilly winter days. As we've mentioned, kids love to feel like a grown up, so they will absolutely love getting to drink morning "coffee" with mom or dad. You can even stuff the mug with small chocolates or toys, and wrap it up for an extra special gift!
I mean, the saying "You can never have too many blankets" exists for a reason, right? You just never know what type of blanket you will be in the mood to use during movie night, or a Saturday morning snuggle session on the couch. There are so, SO many options available at Caden Lane, you are bound to find the perfect fit for your child. They are all so soft and come in a variety of colors and designs. Make this a cozy holiday season for your little one!
The gift of reading is a beautiful thing, and there is nothing more special for a child than hearing their name in a book. The story will come alive once your child realizes the character has their same name. You certainly can't pass up an opportunity to ignite the magic of reading with your little one! There are a variety of book themes and topics, so there is a book for every special little one in your life! These books cost about $30, but the precious memories created while reading together are truly priceless.
You can never have enough reusable water bottles around the house, because no matter how careful you are, it seems one is always left at the playground, school, dance class, soccer field, etc. These water bottles are the perfect size to keep your child hydrated, and come in so many prints and designs. You can personalize the water bottle with just your child's name, or you can find a design that you think your child will love. You can't go wrong with adding an extra water bottle to the gift list this year!
When all is said and done, and you think Santa is ready to deliver presents to your home, I bet he will appreciate the extra assistance in organizing all of his gifts! These personalized Santa sacks come in a variety of designs, and each is so unique. There is sure to be a style that works for you and your family. I love how much Christmas magic these Santa Sacks will bring, when children realize not only did Santa bring some toys, he even left each of them an entire SACK of presents! There is nothing quite like the magic of Christmas morning.
Special interests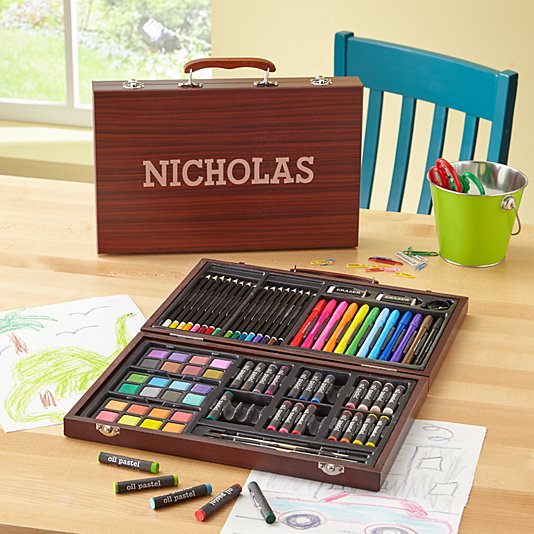 To truly find the best personalized gift for your child, think about their interests and hobbies. Maybe your child loves to make art and be creative, he/she might appreciate THIS personalized art set collection, or your child might be involved in extracurricular activities and want something like THIS to display their trophies and medals. You know your child, and you know what he/she is interested in, personalize something thoughtful that plays upon their interests this holiday season.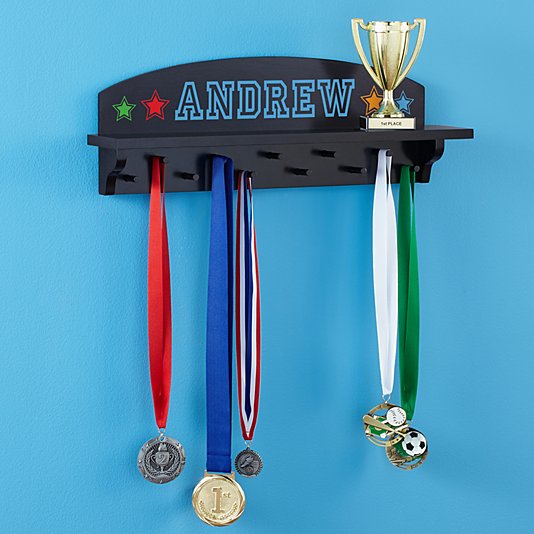 There are endless ideas out there of what you can personalize for your child, I am sure you will find something so perfect for your little one. Happy Shopping and Happy Holidays to you and your family!